High-temperature galvanizing furnaces
High-temperature galvanizing is a hot-dip galvanizing process in which steel parts are finished at temperatures of 540 to 650 °C in a ceramic-lined furnace with an inductively heated bath. Depending on customer specifications, very thin zinc layers from approx. 25 µm up to 80 µm according to DIN EN ISO 1461 can be applied. The protective effect of a high-temperature galvanized zinc alloy layer is identical in its mode of action to normal-temperature galvanizing. Special product requirements such as good fitting accuracy, coatability and higher surface hardness round off the process advantages of high-temperature galvanizing.
In contrast to normal galvanizing, an inductively heated galvanizing furnace is ideal here. When they are installed, these furnace housings are lined with several ceramic layers on the inside, which usually ensure a service life of well over 20 years. This eliminates the expensive steel case changes that gas-fired furnaces require every few years. Depending on the required furnace output, the channel inductors are tailored to customer requirements. A homogeneous metal bath is created by mounting it on the side of the galvanizing furnace housing. The electrical control of the power supply makes it possible to set a desired bath temperature. Our furnace controls are based on current PLC components with color touch panels and Profinet connection to the customer's control systems, which can also be equipped directly with remote maintenance on request.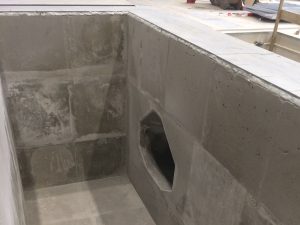 When setting up a new galvanizing line, the furnace steel housing is usually the component that is set up first in the production hall. Later, the furnace chamber is placed above the furnace as a work area for galvanizing.
The metal bath dimensions are customizable to customer requirements. Most inductively operated galvanizing furnaces have a metal bath length of 3.5 m to 5.0 m, a width of 1.3 m to 1.8 m and a bath depth of between 2.0 m and 2.5 m with 60 to 150 t available, which is usually heated with two trough inductors. But also other dimensions are possible.

Please contact us for the design of an inductively heated galvanizing furnace. We can also support you with spare parts such as inductors, thermocouples, solid zinc channels and many more.